Our Mission Statement
Croston Methodist Church exists to promote the worship of Almighty God, to spread the Gospel of Jesus Christ and, in the power of the Holy Spirit, to love and serve its neighbours in Christ at home and abroad.
Our Mission Statement
Croston Methodist Church exists to promote the worship of Almighty God, to spread the Gospel of Jesus Christ and, in the power of the Holy Spirit, to love and serve its neighbours in Christ at home and abroad.
Welcome to Trinity Methodist Church Croston
Our Church in Croston is a community where everyone is welcome, valued and included. We are drawn together by our love of God and faith in Jesus Christ. We seek to live out our Christian faith by serving  and caring for one another,  and for those in our communities and in the wider world.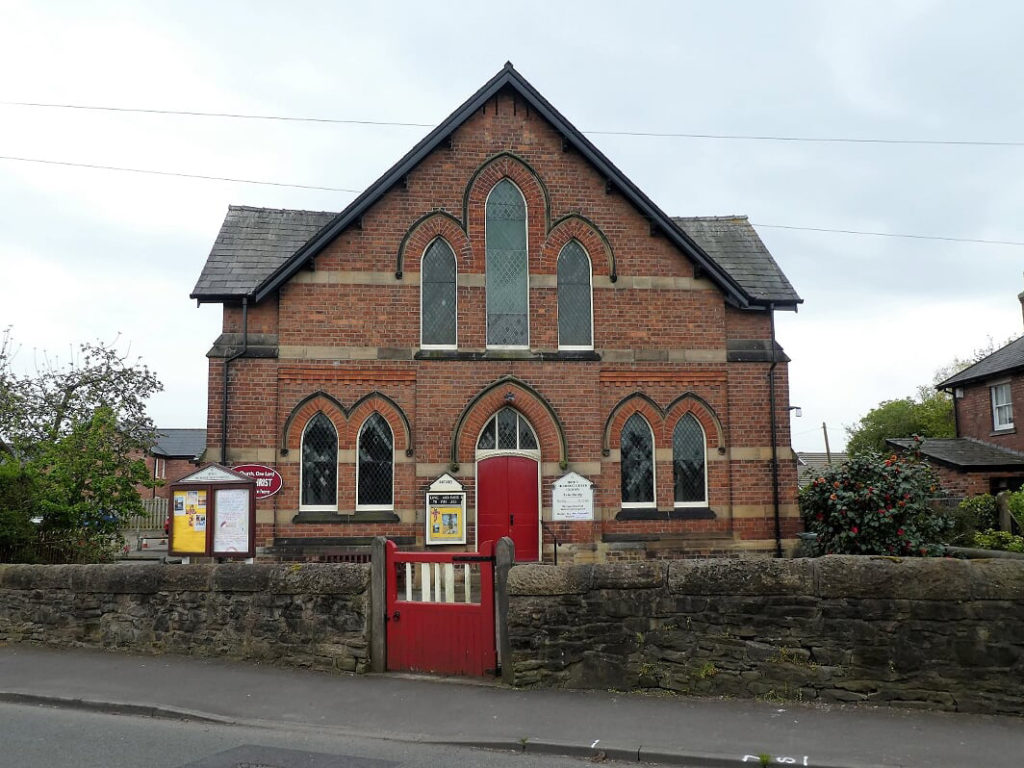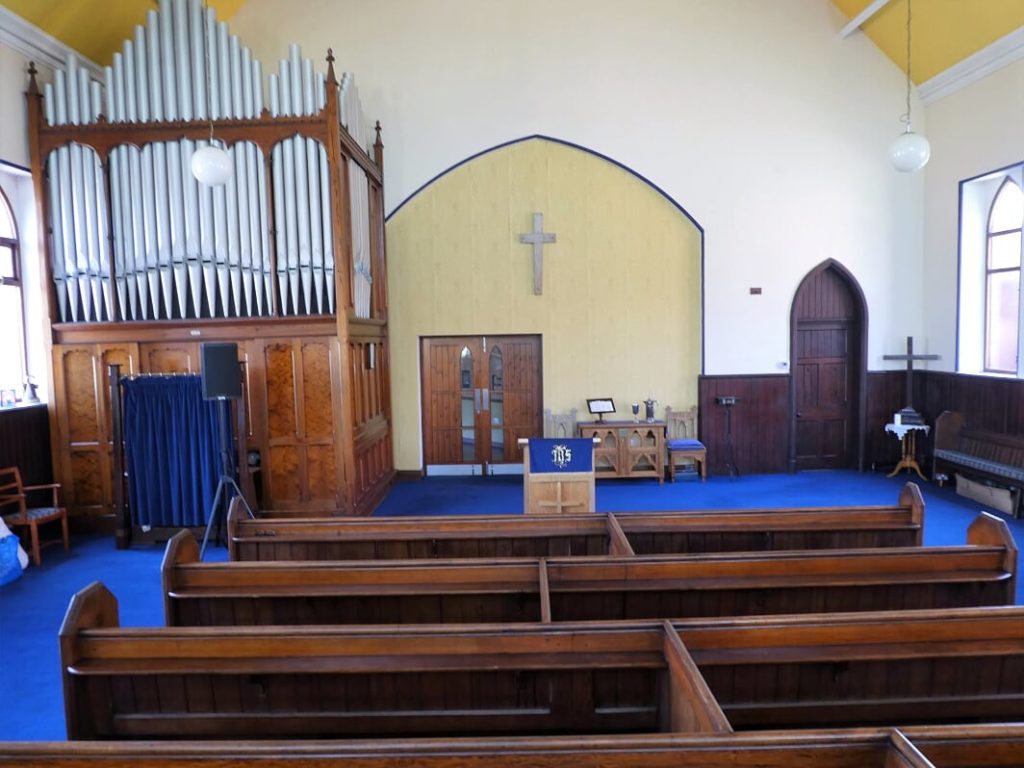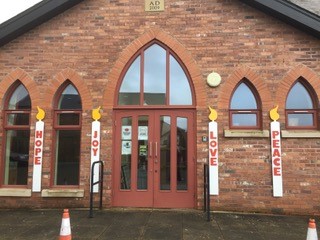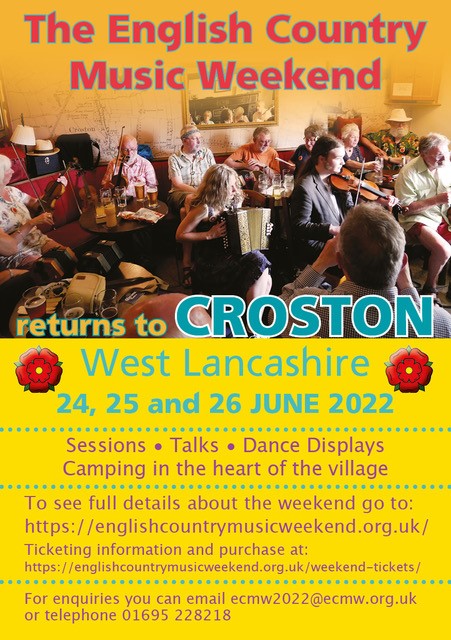 ---
Saturday 25 June. sessions at Croston Methodist Church
10 30 pm  Flat Session led by Brian Read
12 noon to 2 30 pm Slow and Steady open to all musicians and their instruments and listeners !!
Refreshments available from 11 am to 3.00 pm
Choice of soup and French bread
Toasted Teacakes
Hot Dogs
Cake and Biscuits
Hot and Cold Drinks
Methodist in Lviv
On Friday, May 6th, the Rev Roger Stubbings recorded an interview with Volodymyr Prokip, United Methodist minister in Lviv, Ukraine. Rev Roger tutored Rev Sue during her training to preach, and they both met Volodymyr briefly at the 2018 British Methodist Conference in Nottingham, at which Rev Sue was ordained, and Volodymyr was a World Church Representative.
In this video Volodymyr gives a moving account of how the Methodist congregation in Lviv has responded to the desperate situation of refugees fleeing westward from the war torn areas in the eastern and southern parts of Ukraine, and of the longer term plans they have to help people in the longer term.
Sunday Worship
We have re-opened for Worship at 10.30 am on a Sunday morning.  We respectfully ask that you continue to wear a mask when entering and leaving the building and during the singing of the hymns, thank you.  All welcome at our services.
We are committed to allowing as many people as possible to access Sunday Morning Worship, and so we are continuing to provide an online pre-recorded All Age weekly service for those unable to attend Church. This is available to watch any time at your convenience. Please visit our Worship page where you will find a link.
Study Groups
Our Study group will continue to take place on zoom for the time being. We meet on Tuesday evenings. If you would like to be part of a group, please contact [email protected]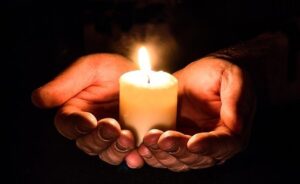 Poetry and Prayer
Many people are accessing our Church website. We would like to invite you to share poems or prayers for the website, that you think might encourage others, either ones you have composed or written by someone else. Please email items to [email protected]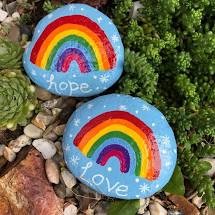 Prayer Garden
As you pass by, please feel free to send a moment in our prayer garden, at the front of Church. On our Prayer page, you will find the opportunity to request prayers.
Our Children and Young People's Page offers activities, stories and reflections that can be shared by families.
On our Reflections page, you are offered a picture, a verse from scripture and a prayer with which to begin the day.
Please too have a look at the articles on our Community Links and History Page.
If we can be of any help to you as a Church Community,  please feel free to contact us on 07468 518260 or email [email protected].
Every blessing – Rev Sue Guénault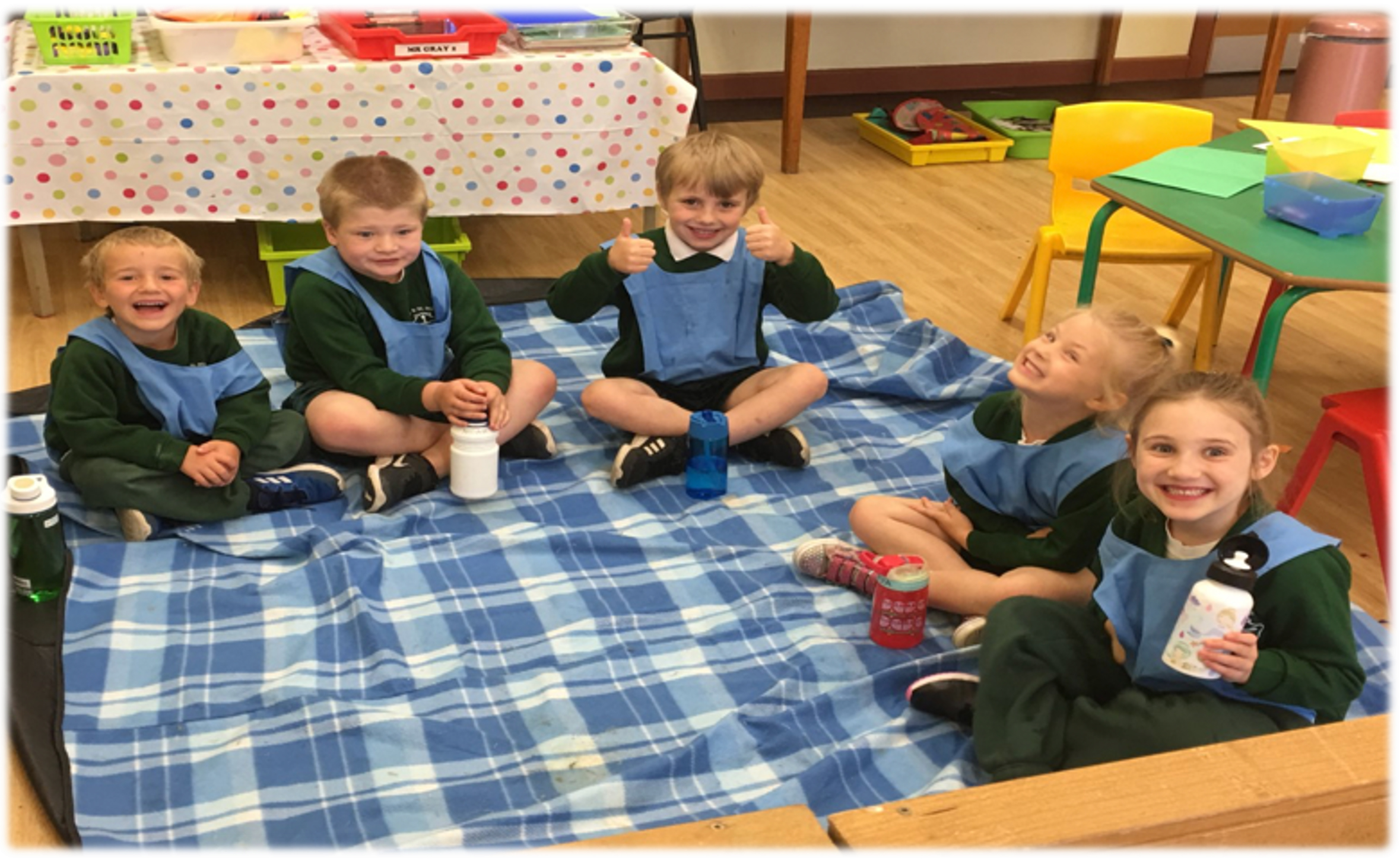 Trinity Church came to the rescue during the Summer of 2020, providing alternative accommodation for Trinity & St Michael's CE & Methodist Primary School during the COVID-19 pandemic.
The school was delighted to receive such a positive response from Rev Sue and the Church Leadership Team when they requested use of the church buildings. The additional accommodation made it possible for all of the school's Reception Class children to be offered full-time attendance for the second half of the Summer Term. The School and Church Leadership Teams worked closely to make sure all necessary checks and required CV-19 guidelines were met in order to ensure a safe and happy return to school.
Staff and pupils expressed how they thoroughly enjoyed their time at church, really appreciating its beauty and space, the warm welcome and feeling of togetherness.
Several staff and parents expressed how they felt it would become one of those very special experiences that everyone would always remember.
Trinity Rainbow School certainly delivered Hope during a time of very significant challenge for all.
Miss Hyett made a 'thank you' card,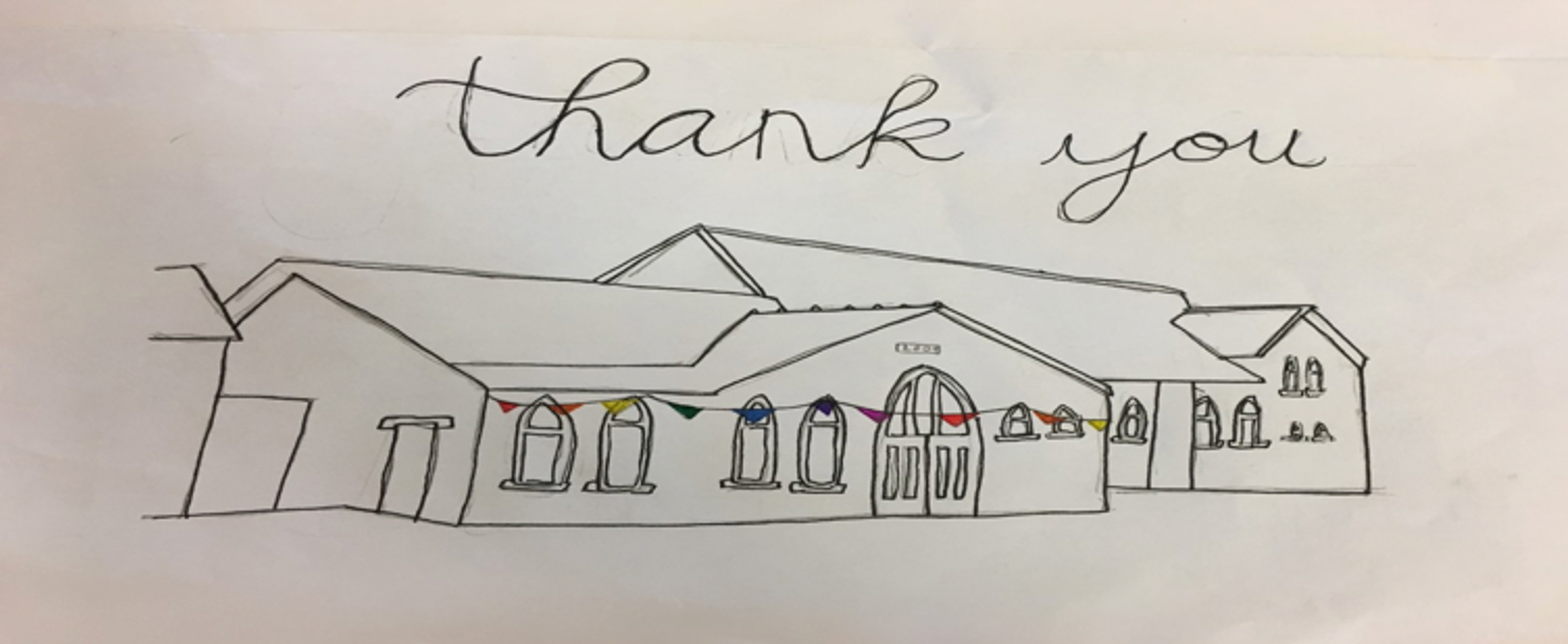 and Frank wrote a very thoughtful message: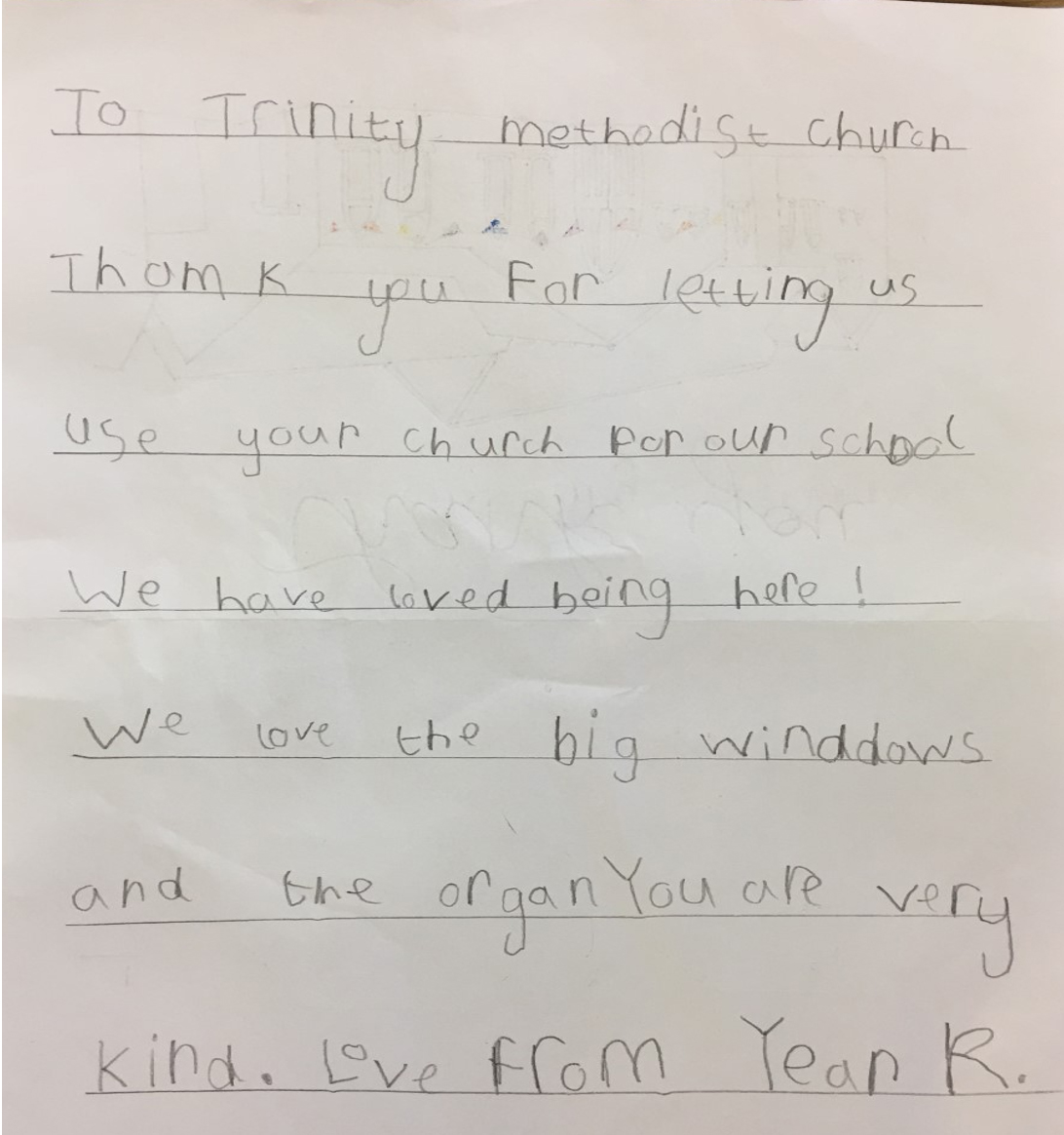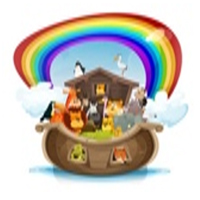 Rev Sue presented everyone with a souvenir gift from the church- a beautiful Noah's Ark book for each child and a Book of Prayer for each member of staff.
Mrs Beatty presented Rev Sue with a souvenir picture from school to remind everyone of the happy and special time enjoyed by all at Trinity Church.