Plaque Dedication Service
Video of The Plaque Dedication Service in memory of Norman Cardwell (headteacher of Croston Wesleyan School and steward of this church in the 1930s and 40s) and his wife Merci who opened their hearts and home to Olga Bergmann Gabanyi, a Czechoslovakian refugee, who came to Croston on the last Winton Kindertransport in September 1939. Indeed an important event in the history of our church and village.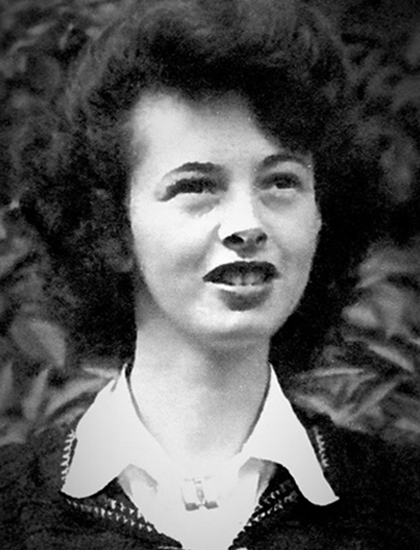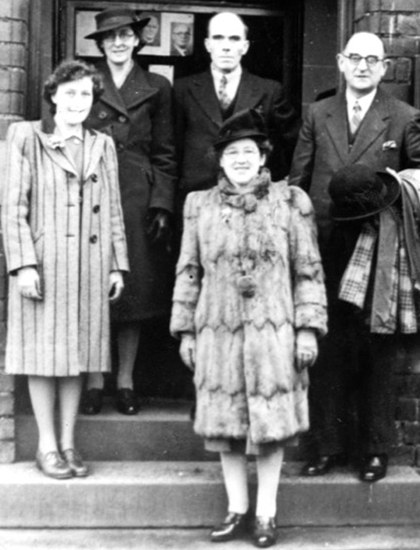 Norman Cardwell with glasses on right above Merci, Beatrice Fairclough on same step as Norman
A Brief History of Methodism in Croston
The first Wesleyan meeting place in Croston was a thatched cottage built in 1829. This soon became too small for an increasing congregation and in 1844 a new Chapel was built. (This building is now 48 Town Road and an original gable -end window remains.) However, Methodism continued to prosper in Croston and soon this Chapel proved inadequate. Flooding was another reason for the move.
The resident minister Rev. J.E. Page was clearly very determined, he demanded action and, within a year and a day, a new Chapel on Westhead Road was built. On June 20th, 1881 more than five hundred members and friends marched in procession from the old Chapel for the ceremony of laying the foundation stone. On 9th November 1881, the Dedication Services were held.
At the turn of the 20th Century, Wesleyan Methodism was clearly thriving. The congregation had grown to four hundred out of a village population of two thousand. Records that survive give a picture of a dedicated group of men and women working with great enthusiasm, devoted to a cause and determined to spend their lives promoting it. Social activities and meetings were arranged but the most important activity was the Sunday School. On most Sundays at the time thirteen teachers would instruct eighty pupils. Children would attend Sunday School, not once, but twice during the day.
The United Methodist Church was also thriving in Croston through much of the nineteenth century. The United Methodists first chapel was two cottages with the inner wall pulled down – part of old Club Street. As with the Wesleyans, there was a period of rapid growth and the need for a new place of worship became desperate. On Good Friday, 1875, the foundation stone was laid and in November the simple but solid Chapel in Westhead Road was opened. In 1899 (also in Westhead Rd) land was purchased for a Sunday School hall which now is Croston Sports Club building and the chapel building is now converted to two flats with a beautiful modern stained glass window in the front.
In 1932, the Wesleyan Methodists, the Primitive Methodists and the United Methodists combined at national level. However, the two Methodist churches in Croston remained separate. The United Methodist Church became Emmanuel, the Wesleyan Trinity. However, financial problems began to loom large and Emmanuel especially needed expensive repairs. The last service at Emmanuel was held on the 18th December 1960 and the Emmanuel congregation was then welcomed by Trinity.
Finally, in 2009 land was acquired and an extension was added to the existing building, comprising of  kitchen facilities and a large meeting room which is for both church and village use. The new extension and refurbishment of the chapel had its official Dedication Service on 16 October 2009.
Historical Items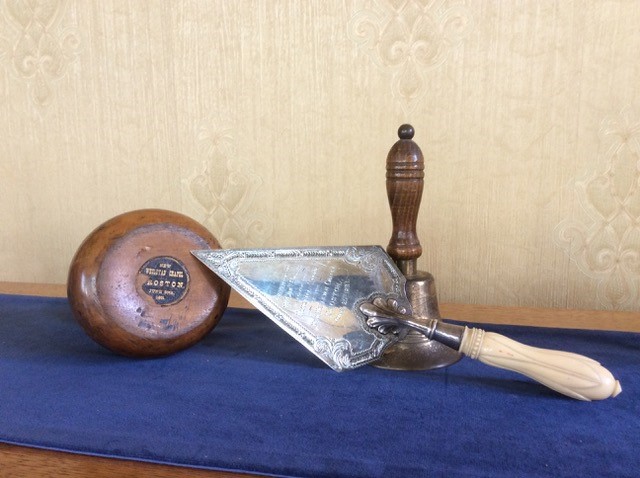 Left to Right;  
Croston Wesleyan Church Seal (1881)
Bell for announcing Sunday school and other events
Commemorative Trowel presented to Mr Charles Dandy on laying Memorial stone of New Wesleyan Chapel June 30,1881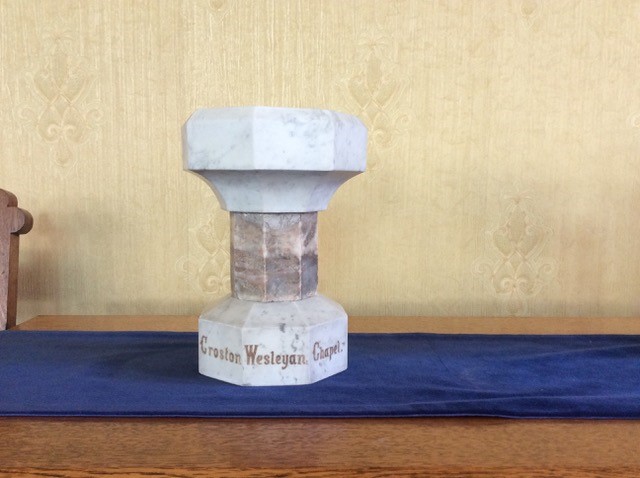 Original baptismal font for Croston Wesleyan Chapel.
Wesleyan Croston Bazaar – May 1906
This Bazaar was obviously part of the 25th anniversary celebrations of the 'New Wesleyan Methodist Chapel' built in 1881 with support of the Wesleyan Day and Sunday School built in 1899.
Present members of Trinity Methodist Church knew nothing about this Bazaar; Trinity Methodist Church being formerly known as Croston Wesleyan Chapel before the union of various sections of the Methodist Church in 1932.
In October 2009 Trinity Methodist Church held a dedication service for the new extension to the church after which we were given an unfinished patchwork made from cotton triangular pieces. The patchwork shows the embroidered signatures of many Croston families living in 1906. After receiving the patchwork Jane Appleby attached a backing cloth and blue border to the patchwork and attached loops so that it could be displayed on occasions in front of the organist's bench.
In May 2020 I started to look into the history behind the patchwork so the information could go onto our new church website history page.' The patchwork had been given back to the church by the extended family of Sarah E Stazicker (1901 – 2005), as they had discovered it whilst clearing her house for sale in 1999. Sarah had attended chapel since her marriage to Bill (William) in 1924. The patchwork is full of embroidered signatures of people who attended the Bazaar which is the only Bazaar that is recorded in the church account records.
The Bazaar was opened by the Rev. Charles H Kelly (1833 – 1911) who was President of the Wesleyan Conference. He was in fact the only person to be president twice once in 1899 and again in 1905. In the autumn of 1905 he became very ill and it wasn't until the spring of 1906 that he could recommence his duties. How lucky was the chapel for him to attend this event because he was also the Secretary of the Wesleyan Methodist Sunday School Union and co-operated with WH Fitzgerald to form the Wesleyan Guild.
The signatures of Rev. Edward Charles Charlesworth (1880 – 1941) who was the minister of the Chapel in 1906 along with previous ministers JW Clucas (1875 -1915), George Parker (1871 – 1909), John E Halford (1879 – 1919) and Robert Dixon are also on the patchwork. Alice Stazicker's signature (1886 – 1936), Sarah Stazickers mother in-law is also on the patchwork and I think it was Alice who was the custodian of the patchwork along with other ladies of the chapel started to embroider over the signatures that we see today. Perhaps following Alice's death it was passed to her daughter in law Sarah. Jim Rigby (a present member) told me his Aunt, Alice Dandy attended the Ladies Sewing Circle and Fellowship at Sarah's House in the 1940's onwards. So perhaps the patchwork embroidery continued at 11A Westhead Road but was never edged.
I was alerted to another signature on the patchwork, that of 'Joseph Rank' by Sandra Coxhead, the great niece of Sarah Stazicker and her partner Ian Ryding. I wondered whether this could be that of Joseph Rank (1854 – 1943) the Methodist philanthropist and head of the most successful milling enterprise in the world who was equally at home teaching Sunday School? Did he attend the Bazaar?
I skimmed through the book 'Through the Mill' by R G Burnett where I found some clues:-
Joseph Rank was born in Hull and married Emily Voase in 1880.
Joseph became a Wesleyan Methodist in 1888 and taught every week in Sunday School until his very old age. This role was one, if not the most important role in his life.
He attended many Wesleyan Conferences so would know the Rev Kelly, especially through his great interest in Sunday School.
He supported the 'Forward Movement' and the erection of Mission Halls, one of which was in Blackburn.
He had flour mills across Britain including Liverpool and Birkenhead and visited them all regularly always returning at weekends to Hull (or from 1904 to London) so that he could teach in the Sunday Schools.
His three elder daughters attended Wintersdorf School in Southport.
He was a great philanthropist already living up to John Wesley's Mantra of:-
Do all the good you can,
By all the means you can
In all the ways you can
In all the places you can
To all the people you can
As long as you ever can.
Joseph Rank's giving knew no bounds but always wanting to give without fuss or recognition, he became known as 'The Anonymous Donor.'
I felt that Joseph Rank had indeed attended the Bazaar. I knew that Rev Kelly's signature was correct as it was just like the signature in his autobiography 'Memories' but how could I get confirmation of Mr Rank's signature? I wrote to Dr John Higgs, secretary of 'The Joseph Rank Trust 'and included a photograph of the embroidered signature. Dr Higgs sent me a scanned signature of Joseph Rank including the 'squiggle' from an accounts meeting of the Trust in April 1941 and it was in Dr Higgs words 'identical.' Joseph Rank had set up the trust in 1917 so Dr Higgs couldn't say totally that Joseph Rank had attended the Bazaar in Croston but highly likely.
I believe that the patchwork was a fund raising idea like 'Buy a Brick' is today. The attendees of the Bazaar would give a donation as they wrote their names on the cotton triangles. In the chapel accounts book (1897 -1950) there is this entry:-
Income £ s d
· May 17/1906 Proceeds of Bazaar Opening Day 50 : 16 : 11
· May 19/1906 Proceeds of Bazaar 85 : 3 : 9
Expenditure £ s d
· Bazaar Expenses 5 : 11 : 3
· Donation from Bazaar Fund to Church Renovation 70 : 00 : 00
This amount is equivalent in 2020 to approximately £15,000. Many of the congregation in 1906 were trades people and farm workers so their wages would not, however they wished enable them to give large donations to the bazaar.
I believe that Joseph Rank did attend the bazaar and as he had done thousands of times in his life gave generously to the life and work of the chapel. What a brilliant event the bazaar must have been for every one of the Wesleyan Chapel and Day School and the other townsfolk of Croston.
It is wonderful to have the patchwork back in church and to share this interesting piece of Wesleyan Methodist Social History.
Dilys Lightfoot
May 2020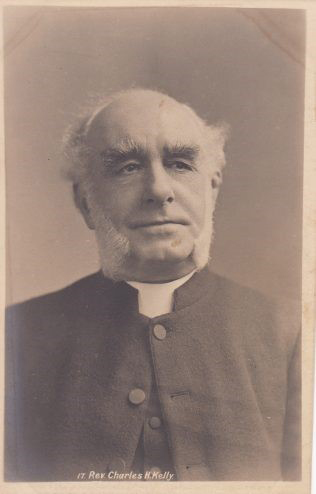 Rev Charles H Kelly President of Wesleyan Conference 1905 – 6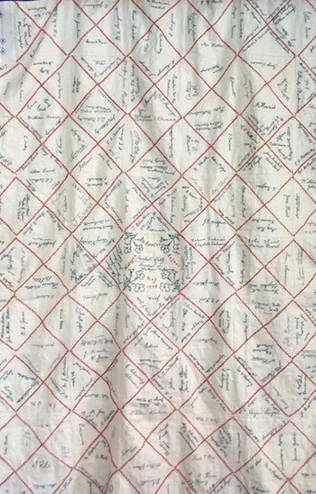 Croston Wesleyan Bazaar Patchwork 1906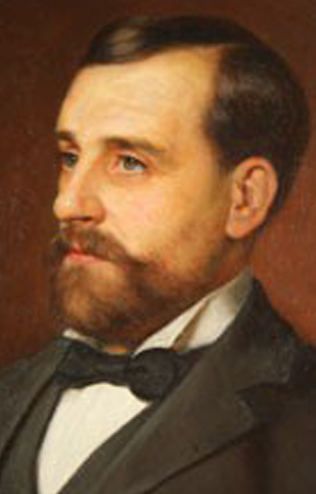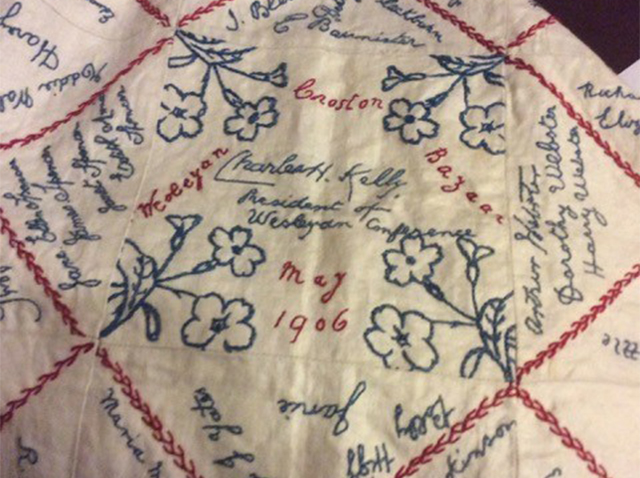 Rev Charles H Kelly's embroidered signature in centre of patchwork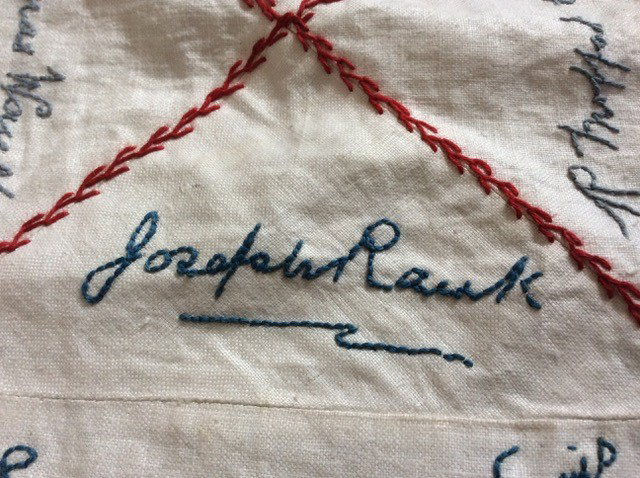 Mr Joseph Rank's embroidered signature on the patchwork
References
· Croston Trinity Methodist Church 1881 – 1981 Centenary Booklet
· 'Memories' Autobiography of Rev Charles H Kelly
· Through the Mill' by R G Burnett
Websites
· mywesleyanmethodists.org.uk
· ranktrust.org
Thanks to
· Dr John Higgs, secretary of The Joseph Rank Trust
· Amy Griffiths, Margaret Dickinson (nee O'Kane), Jim Rigby, Sandra Coxhead, Ian Ryding, Kath Almond and Jane Appleby.